Installation Guide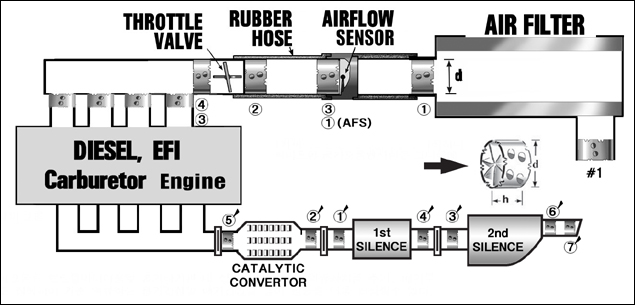 If your car has AFS-AirFlow Senser 1st Cyclone must be fixed after the senser.
1 unit Cyclone fixing, recommended place just after the air filter box, will be good but more unit should be better, because it improve swirling and more compressed effect and cooling down the gas temperature, condense oxygen effect.
If your car is turbo or inter-cooler engine, 1st Cyclone should be fix after turbo or inter-cooler for swirl formation inside of engine, more unit fixing also better in this case also.
Normal passenger car or middle diesel truck's Cyclone's height is 40mm and let me know the diameter in millimeter, mm for example KI-33,35,37.5,40,42.5,45,47.5, 50, 52.5, 55, 57.5, 60, 62.5, 65, 67.5, 70, 72.5, 75, 77.5, 80, ......100.
Cyclone has tension and diameter interval is 2.5mm;
Heavy duty Cyclone KIH type' height is 70mm and order made from 70mm diameter and KIH-70, 72.5,,,,,, 100, 102, ,,,,,,,,,,,,,,150, or more special size.
Smaller model for motorbike's height is 25mm, and their diameter can be start from 25mm so KI-2525, 2527, 2530, 2532, 2535, 2538, 2540, 2543, 2545, 2548, 2550.
//////////////////////////////////////////////////////////////////////////////////////////////////////////////
*Engine type : gasoline, diesel , LPG, normal engine, turbo, inter-cooler
*Engine displacement: 1.5L, 2.0L, 2.5L, 3.0L, 3.5L, 4.0L, 5.0L
*Vehicle type: motorbike, passenger car, MPV van, truck, bus, marine, other
*Cycloneb Model size and order quantity:
if you want more in detail you can send email us(cyclone2@kornet.nnet) with 1~2 photos of your engine.
*Name:
*Address:
*E-mail:
*Tel No.:
------------------------------------------------------------------------------------------------------------------------------------
*After final confirm of you order and we'll let you know the price including postal fee and your in advance payment, we'll send the goods you want.
------------------------------------------------------------------------------------------------------------------------------------
Our bank information:
Bank Name: Korea Exchange Bank Anyang Branch
Account No: 069-13-14161-8
Account Name: KIDC (KIM SEI YOUNG)